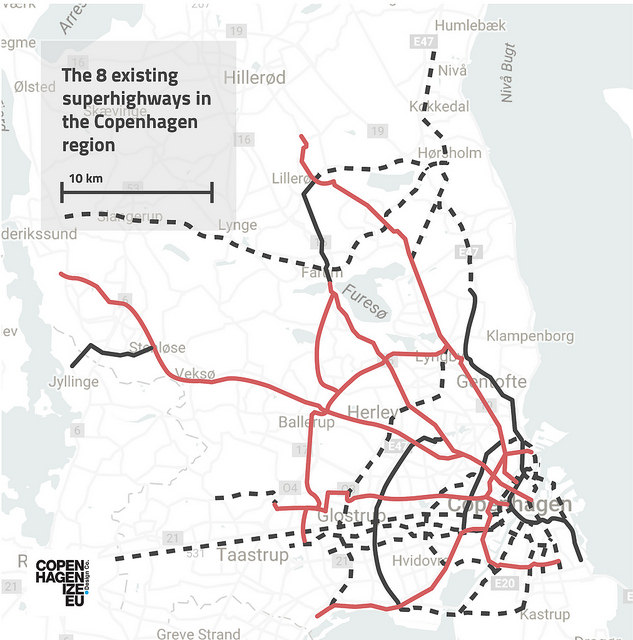 Are you familiarised with Copenhagen's Bicycle Superhighways?
Since the first route of this network was opened in 2012, bicycle superhighways are used every day by thousands of citizens to commute to office, school or university.
To date, 45 cycle superhighways have been planned in the Capital Region in a net of approximately 746 kilometers. By 2021 a total of 15 routes will be built.
Today commuters have access to eight cycle superhighways. The first route, Albertslundruten C99, opened in 2012 and the second route, Farumruten C95, followed in 2013. In 2016 one route, Ishøjruten opened followed by five routes in 2017.
On the existing routes, there has been an increase in the number of commuters. On the Farumroute where the average commute is 14,7 km, there has been an increase in the number of cyclists by 61 % since the route became a cycle superhighway in 2013 – and an increase of 34 % on the Albertslund-route.
The State subsidies 50% of the project in order to make it affordable for municipalities surrounding Copenhagen. Besides, the municipalities have reached an agreement where each of them is responsible for running and maintaining its own part of the route.
Below you can see some pictures of the Supercykelstier projected on major cities from different countries, like Barcelona, London, Paris, and Toronto.
Learn more about Copenhagen's Bicycle Superhighways with Greenovation study tours on sustainable solutions. Our CEO Bo Asmus Kjeldgaard was involved in the development of this project as a Mayor of Copenhagen.
Source: www.copenhagenize.com